High impact sports often prove to be a painful problem that women with bigger busts share. Today we're focusing particularly on Horse Riding, an extreme high impact sport that's all about bouncing and posture – two of the most difficult things to control when you've got big breasts and an unsupportive sports bra.
The constant bouncing and stretching can make for an uncomfortable experience to say the least. Breast pain is one of the major barriers women face when Horse Riding, and many think that their breasts are too big, are embarrassed of their breasts bouncing up and down, or can't find a sports bra that fits. Shockingly enough, this constant struggle women face pushes them to the point where some give up the sport completely just to avoid the unbearable pain.
There are many ways that badly supported breasts can affect not only your body, but your performance too. The excessive movement pulls the breast tissue down (which is what's causing all that pain), causing damage to supportive structures, like your ligaments and tissue. This can actually cause long term damage to the perkiness and shape of your breasts. This is when the pain kicks in, and starts affecting your athletic performance. Many riders consciously (and subconsciously) find themselves changing the way they move to try and stop it from hurting so much. This then affects your posture and performance, meaning you might not be reaching your full potential.
We're here to let you know it's not all doom and gloom though! Because believe it or not, there are actually women out there who have unveiled hope when it comes to finding a reliable Sports Bra, and that's because they've discovered Panache Sport. The Panache Sports Bra is your light at the end of the tunnel and has already begun to impact those in the Horse Riding Community, and we'll tell you why:
Panache prides itself on providing the perfect fit. Finding the perfect sports bra starts with having the perfect fit, as wearing the right size bra can help to reduce breast pain and improve your riding posture. The Panache Sports Bra comes in both non-wired and wired styles, and is proven to reduce bounce by up to 83%*. Reviewers have stated their amazement when it came to the support and comfort the Panache Sports Bra provided. They have even raved about how the non-wired bra was surprisingly fit for show jumping, as the lack of wires means there is no digging in when you fold. Our Sports Bra is created with comfort and support in mind, reducing movement and pain whilst adding shape and stability.
Horse Riders spare no second thought when it comes to giving their horse the best of the best – treat yourself in the same way, especially when it comes to your health and comfort. More and more members of the Horse Riding Community are discovering the life changing benefits of the Panache Sports Bra, why not see what all the fuss is about?
If you're heading down to Your Horse Live on the 9th-11th November, take the opportunity to pop over to one of our partners 'Boobydoo', who will be attending with a free fit service and Panache Sports Bras available to buy while you're there.
Non wired Sports Bra in Ballerina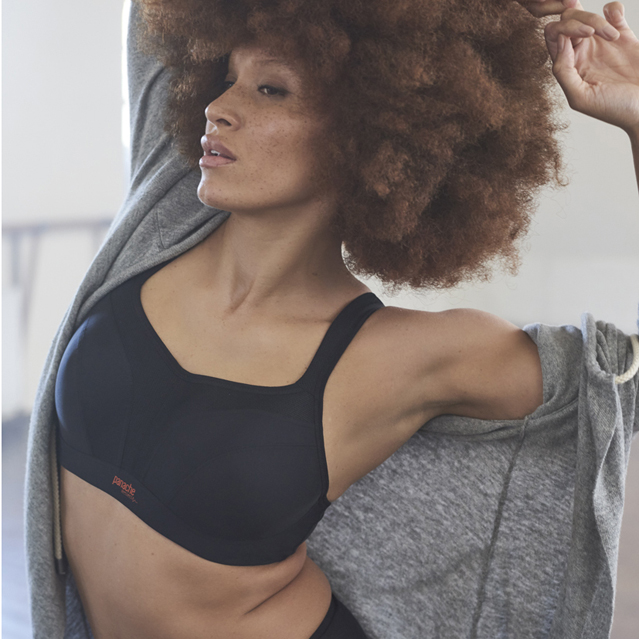 Wired Sports Bra in Abstract Ice
*Testing carried out by Loughborough University on Wired Sports Bra.