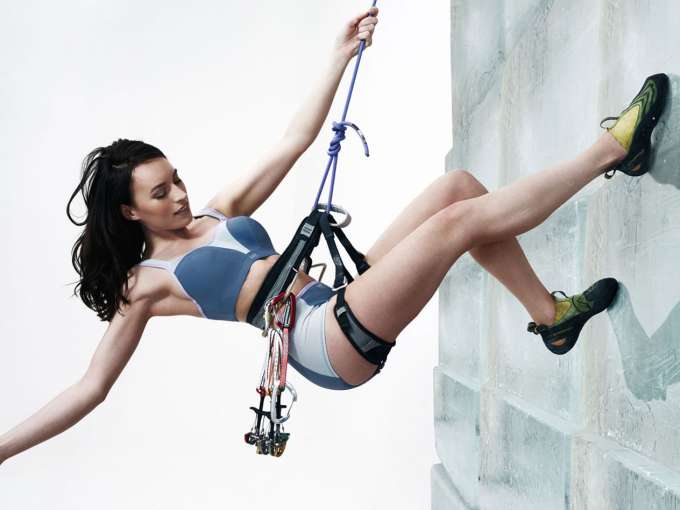 Bonita Norris is the face of the Panache Sport Spring Summer 2016 collection. Berkshire born Bonita was the youngest British woman to climb Mount Everest at the age of 22 from May 2010 until May 2012. Her accolades also include climbing Mt. Manaslu, Mt. Ama Dablam, Mt. Imja and Mt. Lhotse.  We asked Bonita to give us a little insight into her intense training regime and nutrition in the weeks leading up to a big expedition.
So Bonita, tell us what a week of training looks like for you?
I'm just starting my training for my next expedition and have been planning out  schedules and ideas of how to keep my regime fresh and progressive. I leave for my trip in June and so have 5 months to get in the best shape of my life!
My boyfriend and I get up at 5.45am twice a week and jump on the tube to Bermondsey to climb at The Arch climbing wall, then after that I head up to Bank to do a HIIT session at The Altitude Centre and try and do a yoga class in the evening. Then, I'll fit in a mid week run and finish off with a 10k in my favourite training ground- Swinley forest- at the weekend.
My weekly schedule looks like this:
2 x Endurance climbing sessions
1 x Power endurance climbing session
3 x HIIT gym sessions in a high altitude chamber
1 x Tabata sprints in Hyde park
1 x 10Km hill time trial in Swinley Forest
2x Bikram yoga
I'll aim to do lots of stretching and foam rollering too.
My weekly training will be interspersed with a few trips to the hills in North Wales and the lakes for long mountain days and to test the kit I'll be using on my expedition.
Do you follow a specific diet or eating plan?
Nutrition is extremely important-just as important as training. I find that when I eat well my energy levels rocket, it's nothing to do with weight loss. Food is such a huge part of your lifestyle and luckily for me my boyfriend is even more serious about eating well- so we support and encourage each other and there's little temptation to fall off the wagon. Our diet is based around as much veg and nuts/seeds as we can possibly eat, with eggs and fish for added protein and nutrients. We eat fish pretty much every night, with lots of spinach and greens and other veg we throw together. We also eat a lot of soups, salad leaves, beetroot, ginger, eggs, avocados, beans and lentils. For breakfast we have a great big bowl of nuts, seeds, blueberries, chia seeds and a banana. I also take an iron water supplement which tastes disgusting, and vit C and B vitamins too. I never eat anything "low fat"- fat is really important! I prefer to stay away from sugar and any processed foods, and only eat chicken and red meat occasionally. I guess my vice is coffee and the odd square of dark chocolate.
Finally, what's on the agenda for 2016?
I'm planning a big expedition this year but can't announce anything yet!
Thanks Bonita!
Keep an eye out for Bonita and Panache Sport in the press this season!
Want to guest blog for Panache? Get in touch! Marketing@panache-lingerie.com