Coverage & Convenience
Think of a Tankini as a cross between a Bikini and a Swimsuit. Tankinis are great because you get the coverage of a Swimsuit, with the versatility of a bikini! You can adjust the top throughout the day – roll it up when sunbathing, and pull it down when you want a little more coverage. Because the top and bottoms are separate pieces, it's up to you how low or high you want the top to go. They can also feel a lot more free and comfortable if you tend to feel restricted in a Swimsuit!
(Anya Stripe Bandeau Tankini: D-G cup, 30-40 band) (With detachable straps)
(Anya Stripe Folded Top Pant: 8-18)
Beach to Bar
Tankini tops look great with skirts and shorts – throw on any cover-up you like and go from beach to bar in confidence. It'll look just like an outfit, without you feeling too exposed and without the hassle of having to change.
(Anya Voyage Bandeau Tankini: D-G cup, 30-38 band) (With detachable straps)
(Anya Voyage Classic Pant: 8-20)
Mix & Match
Get bored easily? Try a Tankini and a couple of different bottoms to mix and match for a quick and easy change. You could even choose a Tankini with detachable straps and have a little fun switching from strapless, cross back and halter neck!

(Anya Crochet Bandeau Tankini: D-G cup, 30-38 band) (With detachable straps)
(Anya Crochet Classic Pant: 8-20) (Anya Crochet Tie Side Pant: 8-20)
(Our Anya Crochet range is unavailable online, but check your local stockist here!)
You Have a Long Body
Remember, you don't have to be 6 foot to have a tall body! No matter what your height is, you may have a long torso, which means that Swimsuits (or any kind of all-in-one) can be a struggle. If you find that Swimsuits tend to almost always be too short for you, then try a Tankini. You can have the coverage you want from a Swimsuit, with a comfy Tankini that caters to your long body shape.
(Milano Balconette Tankini: D-H cup, 30-38 band)
 (Milano Tie Side Pant: 8-20) (Milano Drawside Pant: 8-20)
Panache Support
Not only do our Tankinis look great, but Panache Swim puts both the expertise and knowledge that we hold about supportive lingerie, into our Swimwear. Get the best of both worlds with trendy Tankinis and incredible support. Our Tankinis have the construction and components inside that our bras have, so you don't have to compromise on the fit and support you deserve when it comes to Swimwear.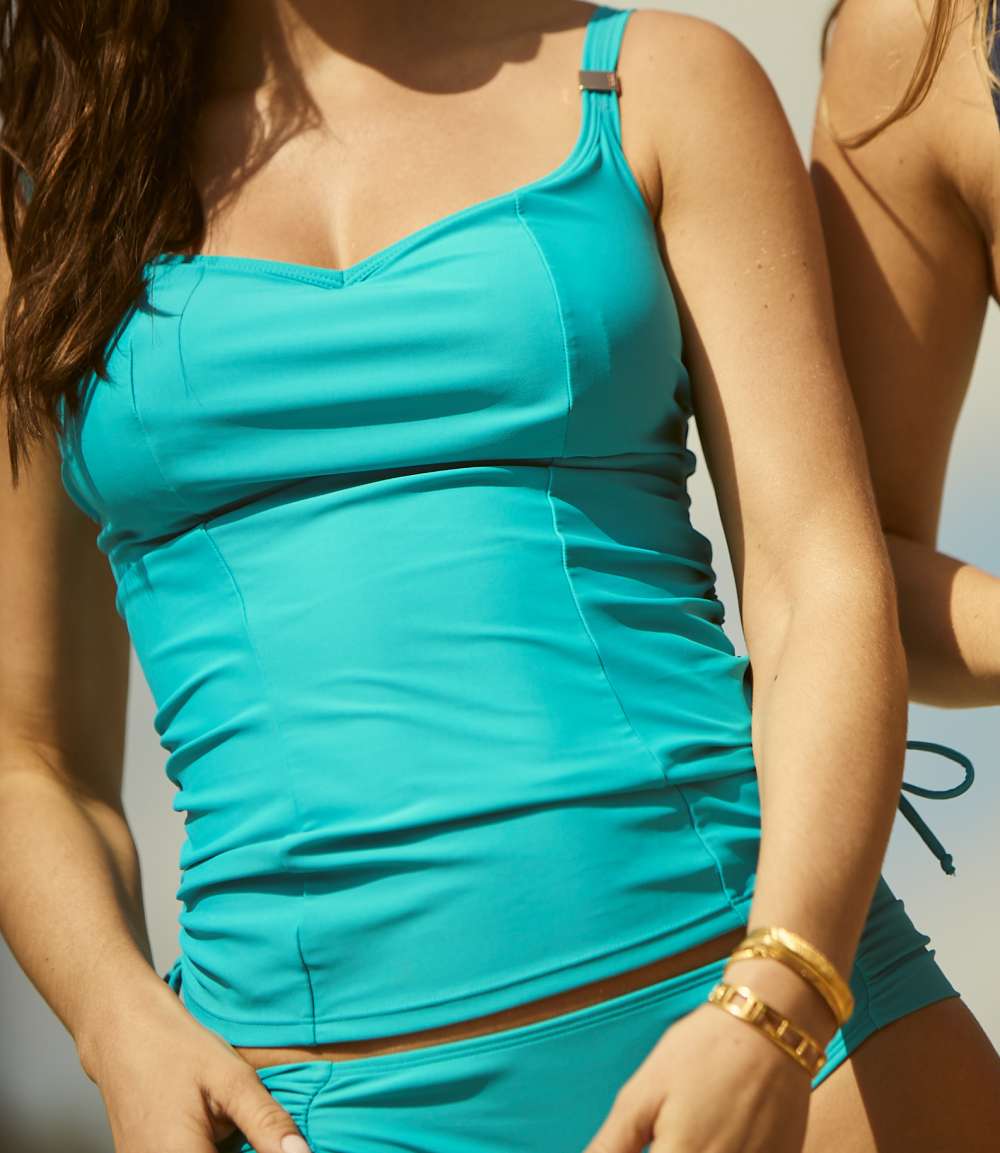 (Anya Balconette Tankini: D-J cup, 30-42 band)
If you've decided that Tankinis are for you, then check out our full Tankini collection. Get style, comfort and support from your Swimwear this summer. You deserve it!